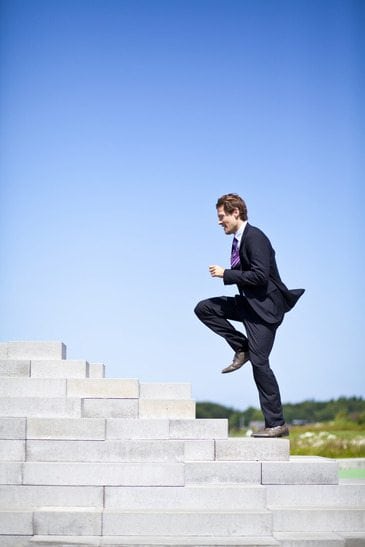 On your daily career do list you now have two critical must do's—Take 15 and Positivity. It's time to add a third—Goal Attainment. In order to advance your career, be happier and more fulfilled, you need to set and achieve goals. These goals may come in the form of polishing your resume, building your network or landing an interview with your dream employer. But daily goal attainment doesn't require you to jump major hurdles or reach big stretch goals. Instead, start small and dream big. Here's how:
Write Yours Down. According to leadership expert Brian Tracy, there is one step critical to goal achievement—write it down. Lofty goals are spun all day but when they are written down, they become real and actionable. They also help you succeed. In a study of Harvard M.B.A. students, researchers explored career and financial success of students with written goals and cited amazing results:
"The 13% of the class who had goals, but did not write them down was earning twice the amount of the 84% who had no goals. The 3% who had written goals were earning, on average, ten times as much as the other 97% of the class combined!" – Forbes, 2014
Advance Your Career. Before your day (or week) begins, write down an exciting career goal that you want to achieve on a particular day. Then go for it!  The more small goals you achieve, the closer you'll get to your goal of career advancement. But you don't have to make this Daily Do goal overwhelming. Start small. Perhaps, you need to reach out to a network contact you've lost touch with, or polish your LinkedIn profile. Maybe your Daily Do goal is to ask for a reference, outline an upcoming career-defining project or spend lunch mending a fractured relationship. Each of these are important goals that when put off can stall your progress. Try using your Take 15 time for working on your Daily Do goals and see what amazing things happen.
Increase Your Engagement. Did you know that when you work on advancing your career, you become more engaged in your work? It's true. Focusing on building your future through activities like Daily Do's goal attainment helps you focus less on what's not working and more on what's possible. When you're in control of your career and seeing progress, there's hope. There's also more productivity as a result.  You'll streamline your time and focus your concentration on your other commitments so that you can carve out more time to advance your career. ———