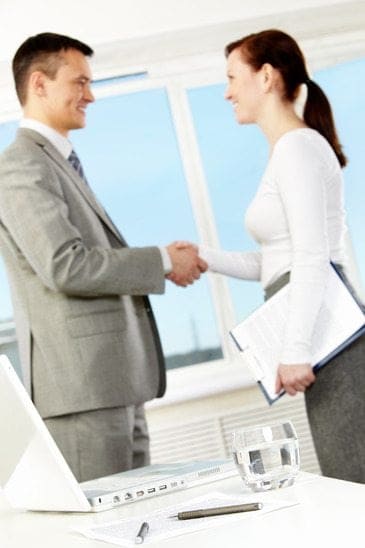 Perhaps, I saved the best for last. Of course that's my opinion, but I think we all agree that you can't grow a career in isolation. So what is the fifth Daily Career Do? Connect. That's right—connect with others you know and who you don't know, every single day!
Make a Connection. Okay, I can hear the groans now. "I don't like networking" or "I'm not good at networking." The litany of excuses goes on and on. That's right—excuses! And we are all guilty—including me! Every single day I realize the discomfort of picking up the phone to talk with someone I don't know or walking into a room filled with strangers. It's not easy. But here's the thing. There are so many ways in which we can connect that are quite comfortable. Asking for an introduction on LinkedIn, striking up a conversation with someone in passing or even deepening the dialogue with your local barista. Every time you have an opportunity to connect with someone it helps you put nerves aside while honing the art of interpersonal communication.
Make it Easy. Please don't over think connecting. Networking has somewhat of a sullied reputation and the idea of networking can bring the strongest to their knees. As a Daily Career Do, you should make it easy. Send an email or call someone you haven't touched base with in a while. If you did this at least once a day, you will quickly see your career blossom. The process of connecting with others helps you grow, learn and cultivate the art of handling yourself professionally in all situations. You're probably already networking, but not thinking of it in that way. A social engagement or conversation with a new employee constitutes networking. So make it easy, and make it happen.
Make it Happen. Take one small step (perhaps as part of your Take 15) to connect with someone you don't know or haven't talked to in a while. Make it happen, today. Just shoot an email or pick up the phone. Go ahead and try it. You'll soon discover the anticipation of the event is much worse than the event itself; AND you'll probably find that the person you reached out to was already thinking about you. It's weird (but cool) when that happens.
 Daily Career Do. We've now totaled 5 Daily Career Do's: Take 15, Positivity, Goal Attainment, Let It Go and Connect. Each of these "to-do's" is required for you to advance your career. I hope by now that you're employing them each day. I also hope that you realize how important they are. Each one of them critically impacts your career and each one of them doesn't require a Herculean effort. They just require doing. Write them down on an index card or put them on your phone where you can review them daily. And please keep this in mind—I never would ask my clients to do something that I don't do on a regular basis. As your career success coach we're in this together.  I'm doing my Daily Career Do's and learning and growing right alongside of you! I'm also here to help and want you to succeed. So, start today. Let's see how quickly you can advance your career in a positive direction!