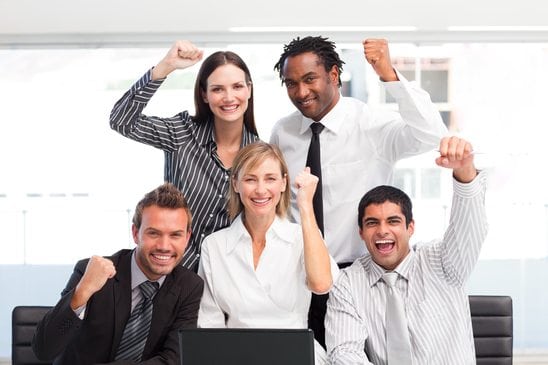 Both the organization and the employee win by prioritizing employee engagement. Employees are happy and satisfied when thoughtfully engaged in their work and provided with a healthy environment in which to do so. The employee is also expected to translate this engagement into results for the organization. When both parties contribute to the effort, a win-win work state can be achieved.
While engagement drives productivity, it needs to be fostered by both the organization and the employee.
It's not the sole responsibility of either, but rather a win-win "state of work" that exists when the organization provides the tools, resources and sustainable environment. Even if that environment is a remote one. 
Still, the employee must also do their part. By clarifying what they need and by contributing their full effort, a healthy equilibrium (win-win) can be realized. Understanding this is a two party process is key. When either party looks to the other to foster employee engagement, the target is missed.
Employers and Team Leaders, ask yourself: 
Are your team members bring their very best each day?
Are you contributing in your part? 
Is there conflict, resignation, frustration or any other red flags?
How do you foster engagement from the ground up?
Don't take employee engagement for granted. In other words, just because you, or your team, hasn't raised their hand and expressed concern, doesn't mean disengagement isn't happening. This can lead to loss productivity and profit, increased conflict and turnover. Be proactive. Learn how coaching can pull back the curtain and open up the dialogue. Your team is your most valuable asset. It's time to support their engagement.
Employees, Leaders and Team Members, as yourself: 
What would engagement look like for you?
Are you contributing in your part? 
Is your organization giving you what you need?
What resources are required?
If you're engaged then you are energized, dedicated and committed to your work and your career. If you're not, your career may be like taking a slow ride on a conveyor belt—one that just keeps going with little direction. So how do you stay engaged, especially if you feel your career has little direction? And how can you help your career soar?
To help, here's three ways to increase employee engagement for both you and your team:
Align Your Goals: Learn what's important (really important) to the organization and see how you can be impactful in helping achieve results. Then work with me, your career coach, to discover how to clarify and align your personal and professional goals with this overall mission. When there's a match, there's a spike in employee engagement.
Get Out More: Sitting in your office (or home office) all day can do a number on you psychologically and professionally. Take breaks, interact and avoid "Silo Syndrome" by discovering what others are doing and by getting to know your colleagues. Build your network or have lunch with your mentor. Getting out and interacting with others is scientifically proven to promote better health and wellbeing. And as your career coach, you know that I always remind you how "networking" not only increases employee engagement, but is also vital to advancing your career.
Explore New Projects: It might be time for something new. When you feel your career is stagnating, employee engagement will decrease for you, your team and very often for those around you. We are all responsible for keeping the momentum up in our work and for our team. Take time to figure out what you might be interested in trying and then outline a plan to make it happen.  And remember, I'm here to help! Begin by taking the Employee Engagement Survey here!!!
I hope this article provided you with a few ideas of how coaching can help you, and your team, improve employee engagement. Dis-engagement is a sign that something needs to change and I want to support your journey of transformation. Let's talk about positive change and what exciting things are waiting just around the corner – Coach Kim
How To Be Career Happy? Prioritize Employee Engagement