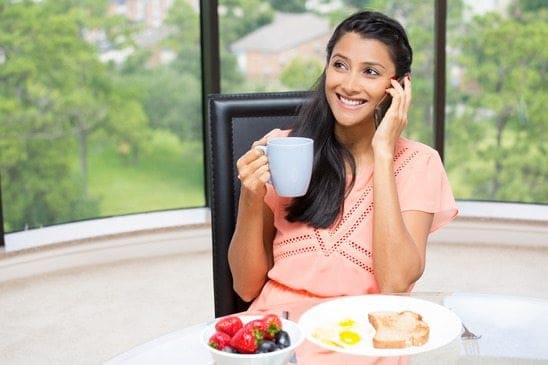 Before you jump out of bed and check your phone, take a few mindful minutes to start your day off right.
Breathe deeply and go internal. Do a body scan and explore how you're feeling and what your body is telling you. Then take some time to quietly concentrate on the healing process. Whether you feel great, or slightly under the weather, meditate on healing. Imagine your body working as a well–oiled machine to gear up for a fruitful and healthy day.
Breathe deeply and go external. Notice your surroundings. Be observant and grateful for the beautiful space in which you've awoken. Listen for sounds that stimulate or calm you and turn on all your senses to slowly take in your environment.
Breathe deeply and set your intentions. Whether you say it aloud or quietly ponder the thought, set a good intention for the day. Imagine making the most of the next 15 hours or so and concentrate on what it will feel like to have your best day ever. Committing to this intention will increase your chances of success.
Personal Challenge: Go internal and external, setting your intentions every morning this week. See what happens and journal about it.
Learn more about The Year of a Mindful Career.