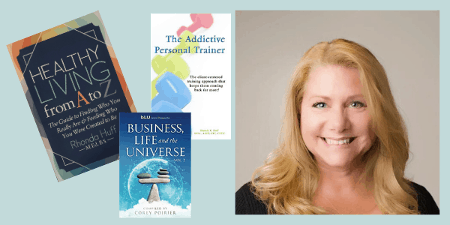 Rhonda Huff, MEd, BS, CPT, CHHC, is a wellness professional whose mission is to help people find healing from the past, health in the present, and hope for the future. She is an international bestselling author and the founder and CEO of Rhonda Huff FIT.
When it comes to helping others, Rhonda is always open to sharing tips about living a healthier lifestyle. Meet Rhonda:
What made you choose the career you're in? I became interested in the fitness field after falling in love with weight training in high school. I received a BS in Fitness/Wellness with a concentration in rehabilitation from the University of Central Missouri and worked with bodybuilders and athletes for years. In 2006, a cancer diagnosis redirected my path, and I began studying environmental toxins, nutrition, stress, and sleep in order to beat the cancer. During that time, my practice shifted to focusing on special populations in order to serve those battling such things as cancer, Parkinson's Disease, Multiple Sclerosis, fibromyalgia, osteoporosis, COPD/fibrosis of the lungs, etc.
What do you enjoy most about it? To watch someone's life change for the better is the most wonderful feeling in the world. That's definitely the best part of my career—being able to help other people live their best lives, even during hardship and illness.
What is the biggest obstacle that you've had to overcome on your path to success? The biggest obstacle when working with people one-on-one is time management and finances. As rewarding as it is, you are still exchanging dollars for hours and there simply aren't enough hours in a day sometimes! It is a bit different than someone who is working one-on-one on an occasional basis and can charge more for that one hour for every person they see. When working with people's lifestyle and health, you often need to see them multiple times per week and insurance doesn't cover what we do, so the client has to foot that bill. It is hard to charge what you know the service is worth because you know it will prevent many from getting the help they need.
The one thing I would have done differently would have been to make sure I had the right systems in place to run the business like a business and to hire someone to help me with that part from the beginning. Like many people, I opened a business out of my passion for what I was doing. I didn't know HOW to run a business and the lessons along the way have been brutal at times.
What qualifications are needed to succeed in your industry? At a minimum, someone who wants to work properly with people's overall wellness should have extensive education in exercise physiology, nutrition, and health coaching. In addition to having a BS in Fitness/Wellness, I also have an MEd and am now working toward a Doctor of Chiropractic degree with a concentration in functional neurology. I also hold credentials through the Institute for Integrative Nutrition, the Institute for Functional Medicine, Applied Kinesiology, Frequency Specific Microcurrent, Neurolinguistic Programming & Hypnosis, and the American Association of Drugless Practitioners. I also have many smaller certifications through several agencies. The point being, the health/wellness/fitness field is everchanging and to stay relevant, we must continue to learn and grow as practitioners.
What daily habits help you stay successful? I start my day off with prayer and a short devotional. Sometimes I will journal during that time, but I try not to be too strict about that. I also work toward eating nutritiously and getting some form of movement into my day every day. Sometimes movement is a workout in the gym, sometimes it's a bodyweight workout at home, sometimes it's a yoga class, and sometimes it's a walk around my Atlanta neighborhood. I also take time at the end of my day to meditate on gratitude and get 7-8 hours of sleep.
What advice do you have for someone who is interested in getting into your industry? I would suggest that anyone who feels they want to get into the personal training, health coaching, and nutrition fields consider two things:
Are you willing to continue learning and growing to stay relevant in the field and are you willing to work hard every day perfecting your craft? This is what will set you apart and set you up for success.
If you are considering opening your own business, make sure you read the book, The E-Myth Revisited by Michael E. Gerber. If you are more interested in working IN your business (in other words, you love working with clients), running a business may be difficult for you and you may have a happier life working for someone else so you can focus on the part you love. In this book, he says it takes three roles to run a successful business—the entrepreneur, the manager, and the technician. He goes on to say that no one can do more than two of those roles and be able to do them well. Make sure you know your strengths, weaknesses, opportunities, and threats (SWOT analysis) and have a plan for how to manage each in order to give your business the best chance of succeeding.
Anything else you'd like to share? Take the time to discover your "why." The how will follow. Wishing you all the best success in all your endeavors!
Connect with Rhonda via her website: www.rhondahuff.com