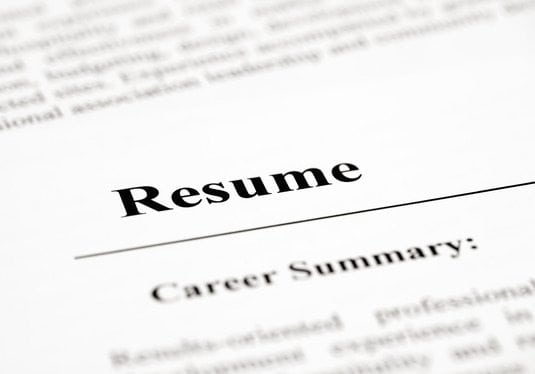 While you should always have a polished, results-infused resume that looks sharp for networking, applications and interviews, you should also create an electronic-friendly version, or E-Resume, to help you easily upload your data so that it slides nicely through Applicant Tracking Systems.
Did you Know? As sited in an article in CNN, when an employer asks you to submit your application materials via e-mail or online, your résumé will be entered into an automated applicant tracking system. These systems don't care what your résumé looks like physically, which is why it's imperative you re-format yours so the database can read it. The system will scan your résumé (along with hundreds of others), keeping those with keywords similar to their job descriptions and discarding the rest.
What Happens Next?  Applicant Tracking Systems (ATS), or electronic application portals, are widely used to help organizations filter a slew of incoming candidates while ranking them according to a set of required skills. Unfortunately, ATSs can make it challenging for applicants to even get past a "fire wall" of standards without an ATS-friendly or electronic "E-Resume."
But there is good news. While "old school" ATSs that only parse information from E-Resumes still exist, they are NOT as common as contemporary versions that also allow for uploading a PDF version, despite what you might hear! Additionally, you may already be using an E-Resume to complete your ATS, but haven't called it by its industry name. So rest easy and don't be deterred by scary rumors that your application has been auto-rejected.
E-Resume or PDF? After intensive interviews with recruiters throughout the country, including those representing Fortune 500 companies, I learned that focusing your efforts on PDF or "pretty versions" of your résumé that present your talent and brand in the best light is a smart use of your time.
But here's the disclaimer. There are many different ATSs out there and some still only parse (extract) content from your resume. These systems will require an E-Resume. But odds are, if you're applying to a large organization—well known in your area or country—they have a big enough budget to work directly with the system's provider to purchase and tweak a cutting-edge ATS in a way that won't rule out "qualified" candidates. Why would they want to anyway?
How To Apply?  The issue lies in figuring out which ATSs organizations use in order to submit the best version of your resume. But this presents an almost impossible time-consuming challenge for applicants, and I doubt many Human Resources departments are willing to field those calls all day long. So to be safe, I'd recommend creating and using both versions, like we do in our career coaching sessions together. We start by unearthing "content:" key qualifications, strengths, talents, skills, and answer questions like, "Why are you the best candidate?" etc. From there we move to order and polish. Remember, the "pre-pretty" content is your E-Resume usable for all Applicant Tracking Systems. So applying with your keyword rich, MS Word version using organizational language is a smart strategy.
How To Start? While there are many rights and wrongs when it comes to your E-Resume, here are a few gentle reminders that will make creating and using one easy to do.
Avoid convoluted header names unless using a universally recognized one such as "Objective" or "Summary;"
Always include dates of employment;
Include the LLC, Inc. Corp or Company in order to get the ATS to read the employer name;
List the degree, major, university and date completed and end each entry with a period;
Repeating key word experiences under employment will invite the ATS to add the cumulative years;
Avoid graphics, tables, fancy fonts, fields, mixed font sizes, columns or tabs;
Always align in left with information in list format.
If you need help creating your "Fancy, Human-Appealing" version AND your "Text and ATS-friendly E-Resume," let's talk about polishing your career marketing materials so you are branded and ready to soar to the top at a moments notice.
How To Be Career Happy? Make Your Job Search Easy With An E-Resume