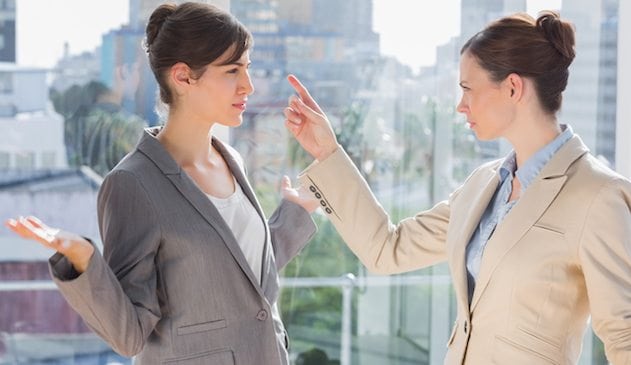 No matter where you work there's bound to be occasional conflict.
When it occurs, it can be swiftly resolved when both parties leave out emotions; clearly communicate concerns; respect differences of opinion; and rise to a mutually beneficial resolution. Through practice of this extremely effective formula, professionals will develop the habit of shutting down conflict before it arises. The only problem is that it's not employed often enough. After all, we're only human and tend to give into emotions and avoid uncomfortable confrontations.
When working as an internal coach, I'm often asked to facilitate discussions between conflicting parties. While this type of informal mediation is quite successful, conflict can be avoided through calm, thoughtful dialogue and clarity of communication.
Coaching helps professionals develop and successfully employee these skills. This begins with widening the lens, challenging the client to look at the bigger picture including the third perspective.
In addition to considering all angles, coaching focuses on diffusing heated and hurt emotions while developing a strategy for effective communication. Words can be weapons but they can also heal, so to use them effectively you must choose wisely and employ a neutral tone during delivery. While it's important to thoughtfully manage conflict when it comes your way, don't be part of the problem.
Here are five rules to apply that will help you avoid stirring up toxicity and being party to conflict in your workplace.
Avoid instigating remarks. While we may mean no harm, sometimes we say things that are intended to be funny but can ignite toxicity. Snarky remarks (and emails) are all too often the root of workplace conflict. Despite how mentally tough we claim to be, we all have our sensitive sides, so avoid instigating remarks with a double meaning. For example, if a colleague dons an outfit not to your taste, instead of saying "That's an interesting choice," say nothing at all. If someone has been gone for a while on vacation, due to illness or whatever, substitute "I wondered if we'd ever see you again," with "I hope you're trip was great."
Avoid schedule watching. If you're busy watching other people's schedules then you're not busy enough. Watching the clock or someone's calendar and monitoring colleagues' and supervisors' comings and goings often is a sign of boredom or guilt. Many folks take the schedule watching too far by interrogating others on their comings and goings or running to a supervisor to make reports. Try focusing on what's important—you and what you need to do to get your work done.
Avoid water cooler gossip. Even if you don't say a word, your presence is affirming to others and probably promoting this kind of behavior. You don't need to confront gossip, unless you approach it in a thoughtful way, but at least avoid participating or encouraging it from others.
Avoid passive aggressive behavior. People are going to say and do things that offend us. It's part of life. But how we react to their behavior determines whether or not we are poised for career advancement. Giving someone the cold shoulder or remarking aloud your disdain takes office behavior right back to middle school. Yes, it's not always easy to have a mature conversation when emotions run high, but after you've had some time to reflect, you'll discover that not only is it the most professional approach but that it typically garners positive results. Be courageous and share your concerns and be prepared to ask for a third party to mediate if necessary.
Avoid online venting. It's bad enough to say something hurtful but imagine putting it out in cyberspace (emails, texts and social media) where it creates a permanent record.  If you're angry, hurt or feel slighted don't hide behind a computer and vent in an angry email. Instead, step up and speak up and seek a positive outcome. Yes, it requires work but you'll avoid hurting others and harming your professional reputation.
Thoughtfully consider using coaching for conflict resolution, as it is the best way to prevent heated workplace disagreements. Coaching can help you confidently address conflict when it occurs and diminish future conflict in the workplace. Coaching for conflict resolution empowers professionals to develop, hone and employ the skills necessary to resolve and prevent conflict in the workplace. But don't wait until trouble arises, start today. Ask your coach to help you build skills and develop strategies to reduce workplace conflict and diffuse any future confrontations.
How to Be Career Happy? Apply the 5 Rules For Diminishing Conflict
I hope this article provided you with a few applicable ideas for success. I would be honored if you shared this on social media. And speaking of sharing, please share your own ideas and experiences below. Together, we can build a happier career community.
Photo Source: Photodune