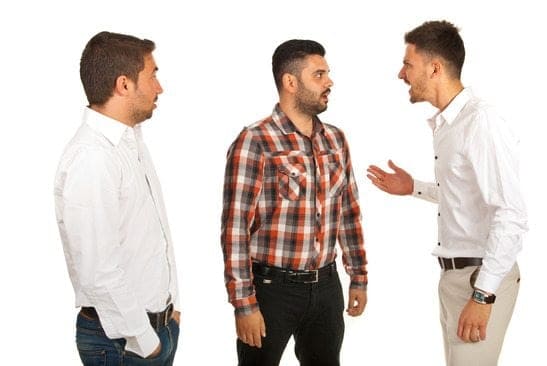 Did you know that the estimated annual cost of workplace conflict in the U.S. is $359 billion in lost time and productivity? Additionally, between the cost of employee attrition, wasted time, poor decision making and lower ROI of labor, a single conflict may cost the company $255,000 for each episode.*
In my work as a coach, I am often asked to facilitate discussions between conflicting parties. While this type of light mediation is quite successful, conflict can be avoided altogether through calm, thoughtful dialogue and clarity of communication. And always prioritize professionalism in your approach.
Of course, it isn't that simple when emotions are running high. Let's face it, when we're upset, we don't always choose the appropriate communication approach to get our point across. To begin the conflict resolution process, start by taking a step back. Take a moment to separate yourself from the triggering situation so you can avoid reacting with harsh words that you may soon regret.
Once you've given yourself some space, the following six steps will help you successfully navigate conflict in the workplace:
Get your facts straight. Start by understanding what happened and what was the cause of the conflict. Look for the facts, not the emotions. While feelings are certainly important and need to be worked through, they can cloud sound decision making and judgment. Once you've identified the facts (not hearsay), then you can prepare your fact-based talking points, negotiable outcomes and a win-win resolution.
Consider all perspectives. Widen your lens and look at the bigger picture, including the third perspective. How is the community around you being affected by the conflict and what is the non-partisan viewpoint? When you take all three perspectives into consideration, it helps you get out of the emotional weeds, see the bigger picture and formulate a solution. Another important element of perspective is fear—the root of all conflict. Approaching others with compassion and understanding helps minimize their fears, and yours, and opens the door to positive communication.
Work with your coach. In addition to helping you consider all angles, coaching focuses on diffusing heated and hurt emotions while developing a strategy for effective communication. Words can be weapons, but they can also heal, so to use them effectively you must choose wisely and employ a neutral tone during delivery. Coaching can help you brainstorm and roleplay various approaches so that you can thoughtfully navigate conflict and reduce the likelihood you'll face this particular obstacle again.
Communicate clearly and respectfully. Clear, concise and fact-based communication can help you navigate conflict. First, consider what medium you are using—text, email or voice—and choose the right approach. When we put things in writing, there is a lot of room for misinterpretation. While this is still a good follow-up approach, it's probably the worst way to address conflict. Instead, pick up the phone or schedule time with the other party so that you can create a safe space for communication and truly listen to one another. Additionally, communicate positive messages whenever possible and deliver criticism respectfully.
Close the 'energy' gap. According to Nate Regier in his book Conflict Without Casualties, "Conflict issimply the energy created by the gap between what we want and what we're experiencing." Re-examine the conflict that you are in and look for the 'what?' In other words, what is it you need and what is standing in the way of what you want to achieve? When you identify the obstacle—finances, disagreements, lack of accountability—that is the first step in resolving the negative energy surrounding it and closing the gap.
Let things go. Remember, not all conflict is bad. Sometimes, minor conflict inspires creative solutions or helps root out potential obstacles in the way of success. Conflict helps illuminate and strengthen differences that make up the healthy recipe for team success. And don't go looking for conflict. If it isn't yours don't get involved unless it's only to neutrally mediate.
How To Be Career Happy? Navigate Conflict Thoughtfully
* CCP Global Human Capital & Mediation Works