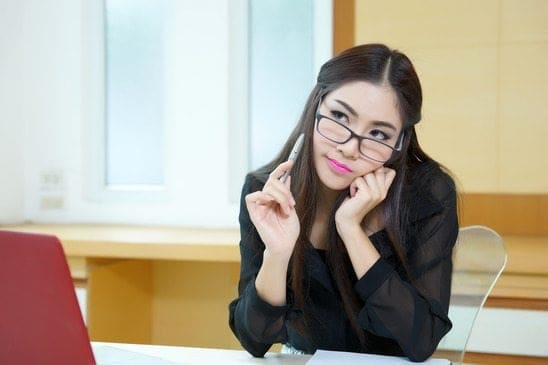 Okay, promising happiness is a bold move on my part. For one reason, I can't wave a magic wand and all of a sudden, your workspace is transformed into a Disney movie complete with all the adorable characters and magical experiences. Nor can I do the work required, or formulate the necessary behaviors, that help cultivate career happiness in your work life. What I can promise is to help you discover what would make you happy and help you build your happiness road map. In doing so, you've set a goal and the intention that you want to be happy at work and that you deserve to be happy at work. Yes, you do. Disney or not, you deserve to make your career dreams come true. And yes, be happy along the way.  
And here are four reasons why:
You have the ability to be happier at work. My business is built on helping people "Be Career Happy!" Yet we're now being told that 'happiness' is overused. I disagree. Yes, the word conjures images of being in a good space, feeling optimistic and radiating pleasure. You put in over eight hours into your workday, and though one cannot be happy every minute of the day, you can reclaim your joy for the majority of them. 
While each road map to career happiness is different, it's certainly a doable, achievable state of being that is available any time you're ready. Anything that puts you into that state of FLOW, a term coined by Mihaly Csikszentmihalyi, contributes to your happiness. When you find work that engages you so deeply that you lose track of time, it's signaling that there's a potential happiness project at work. 
Happiness can also come from making changes that lead you further down the path of bliss, such as negotiating a better salary, getting a promotion or using your skills and strengths in new ways. This also includes how you leverage your professional capital and brand toward a more congruent and desirable career. But happiness also extends to working more collaboratively with your peers and leading your team to new heights while developing and leveraging a supportive network. People play a big factor in your happiness. But it's not about reacting to them. It's about how you chose to engage with them and manage these interactions authentically, positively and thoughtfully. 
You have the tools to be happier at work. Often what we believe will make us happy is something external, when in fact we all have the tools to define and attain happiness—we might just be too much in our own heads to see the way clearly. The truth is, you have everything you need right at your fingertips to be happier at work starting with a pen and paper. Creating an action-based plan which leads to your career happiness goals isn't hard to construct. But it may be hard to employ. Why? To begin, it means stepping out of your comfort zone and making sustainable changes in your perspectives and your approach to both your work and those you work with. 
What would it take to make you want to jump out of bed each morning excited about the day ahead? A new job, a promotion or maybe less stress, a better environment, a more supportive boss. And why not more work life balance? Only you know what your happiness outcomes will look like, but it begins with leveraging your remarkable brand, innate power and unwavering motivation to make it a reality. You don't need anything more than that. A goal, a plan and your unquenchable desire. 
You have the choice to be happier at work. We live in turbulent times. Being career happy may seem like a luxury you can't afford. With everything happening in the world and even right in your own backyard it may seem selfish to focus on your own happiness. Wrong. Choosing to be happier at work is your right and it's necessary for a sustainable career that gives you, and your family, what you need to thrive. 
Like anything in life, you have everything you need to be happier. I know this because I've studied so many others who have figured this formula out and I've learned how to do this for myself. More importantly, I've dedicated my professional career to help my clients—and you—be happier at work.
Remember, only you have the choice—and the power—to be happier at work. You should never rely on someone else for your happiness, nor should you expect someone to make your life better. You have this choice and following that choice is your intention to make happiness a reality in your life. But I'm not going to lie to you. It takes some work. For myself, I took a big gamble, a lot of self-reflection and pushing myself out of my comfort zone and yes, my journey is far from over. But boy am I loving life and couldn't be happier with my career. My old boss even called me a few months back and said, "I want what you got, can you help me?" Now it's your turn.
You can help others be happier. It's not all about you (although sometimes it feels like it). It's really about all of us. When you help others be happy, you become happy. 
Reflect on this Chinese proverb:
"If you want happiness for an hour, take a nap. If you want happiness for a day, go fishing. If you want happiness for a year, inherit a fortune. If you want happiness for a lifetime, help somebody." 
For centuries, the greatest thinkers have suggested the same thing: Happiness is found in helping others. But if that doesn't convince you, think about the Law of Attraction: The belief that by focusing on positive or negative thoughts people can bring positive or negative experiences into their life. By reversing your logic and focusing on positive experiences you will have more versus the constant negativity that is "newsworthy."
Finally, your happiness causes others to be happy. According to a Framingham Heart Study, people's happiness depends on the happiness of others with whom they are connected.
"This provides further justification for seeing happiness, like health, as a collective phenomenon…and suggests that happiness spreads up to three degrees of separation from us."
You now have at least four reasons why you deserve to be happier at work. And there are a lot more reasons out there. What's stopping you? Even if you're on the fence, you now know that your ability to find happiness will positively affect so many other people in your life. 
As Friedrich Nietzsche said, "He who has a why to live, can bear almost any how." When you give yourself permission to be happier at work, and know why you deserve it, implementing your happiness plan will be a breeze. 
You now have at least four reasons that you deserve to be happier at work. And there are a lot more reasons out there. So, are you ready? What's stopping you? Even if you're on the fence, you now know that your ability to find happiness will positively affect so many other people in your life. So, what are you waiting for? Pick up the phone and let's get started. 
How To Be Career Happy? Recognize That You Deserve It!