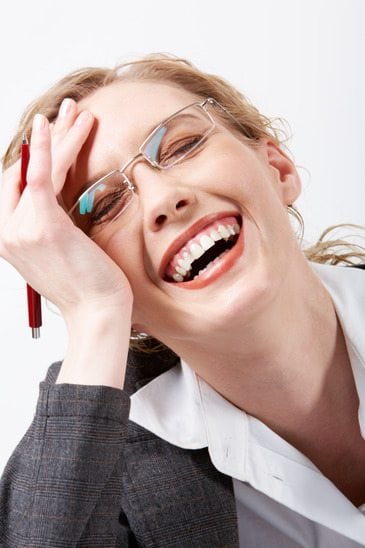 We all know that when we're happy we're more productive. And anytime we make positive contributions in our careers, our professional opportunities increase. Science has proven that laughter is good for our health. It increases blood flow, which improves our immune functioning while decreasing blood sugar and stress levels. Bringing laughter and joy into your life also may help you sleep better, and, when you have a good night sleep, you're more likely to be more productive the next day. Laughter is good for your career, too.
People are naturally attracted to (and want to hire and promote) those who make them smile and feel good.
Laughter inspires happiness in us all. Laughter is also a great tool for diffusing tension, breaking the ice in an interview or getting a team engaged with one another and performing optimally. Laughter, however, should never be used as a weapon or approached unprofessionally—but that's not who you are. Your laughter is good for your career, opens doors to new opportunities and will encourage others to embrace the lighter side of life.
Here are a few ways to get the laughter going.
Wear a smile, it's infectious;
Share your embarrassing moments with others;
Post funny (yet tasteful) cartoons or sayings in your office;
Fake it until you make it—forced laugh will quickly turn genuine;
Do one silly and non-conforming thing each day;
Take to lunch the people who make you laugh and talk about things that are unrelated to work;
Watch a YouTube video during your break. Here's one guaranteed to make you laugh.
Tell a good joke or laugh at one that isn't so good;
Play with games and puzzles to stimulate your brain, but avoid competitiveness;
People watch—you'll find something to make you smile!
How To Be Career Happy? Get Laughing. It's Good for Your Career