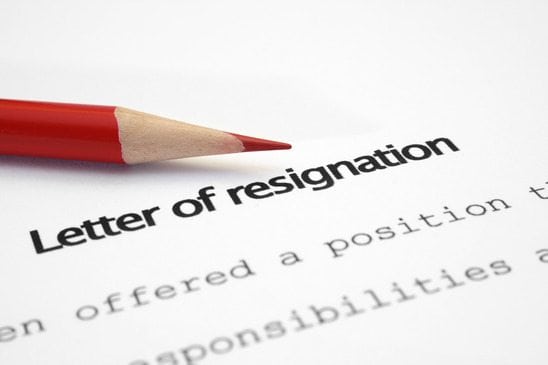 When I worked in the counseling division of a college, I recall a colleague who resigned in the most ungraceful of ways—he walked out of the college, "never to return." Now, you might be wondering if he was mistreated, taking a stance or "schooling" his old boss. It was none of the above. Rather, he decided to take the "Office Space" approach and announce that he didn't like working there anymore and just left.
Now, before you start rooting on this madcap, swashbuckling adventurer for rebelling against societal norms, know this—it cost him professionally. Eventually, he had to come back with his tail between his legs because he couldn't find another job and his daredevil act lost all of his would-be references. Unless you are independently wealthy, this probably isn't the best way to gracefully resign from your job.
I will wager that you're probably going to have to resign from your job if you're looking to transition elsewhere. So why not positively impact your career with a graceful exit strategy that leaves the door ajar, if you should decide to return. If this appeals to you, here's how to resign gracefully from your job:
Keep your plans to leave to yourself. Even though you may be excited about the decision, don't share your secret with anyone until your supervisor has been notified. Loose lips can even sink departing ships.
Give ample notice. Even if you aren't required to give two weeks, plan accordingly. You want to leave on a high note and that may include training your replacement so there is no hiccup in operations.
Schedule an appointment to share this with your boss before anyone else. Let them disseminate the information in the appropriate manner so that protocol is followed and no one feels slighted when learning of your news.
Be ready to share the wins of your transition and not the "whys" of your departure. This is not the time to share everything that you dislike about your current company or boss. A graceful exit will put others' minds at ease and help them adequately cope with change and your loss.
Work with me, your career coach, to craft the right words, boost your confidence and have a clear direction on where you want to go.
How To Be Career Happy? If You Resign, Resign Professionally
I hope this article provided you with a few applicable ideas for success. I would be honored if you shared this on social media. And speaking of sharing, please share your own ideas and experiences below. Together, we can build a happier career community.
Photo Source: Photodune